What you can expect from this blog
This blog uncovers the secret weight loss diets followed by your favourite B-town celebrities. Find out how A-listers like Sonam Kapoor, Tanmay Bhatt, Shehnaaz Gill, Katrina Kaif, Kareena Kapoor, and many more maintain their weight.
You will also get a glimpse of different types of diets, what each kind of diet does for the body, and what kinds of foods these diets include.
Introduction
Feeling unsure of what to wear? You can visit Tara Sutaria's IG to find inspiration. Need cutting-edge skincare tips? Deepika Padukone's Snapchat has got you covered. Or if you just need general life advice, Navya Naveli Nanda has got you covered on her podcast!
The crux of this is to illustrate the significant impact of celebrities in our day-to-day life. Oftentimes, we instill such high credibility in celebrities that they can do no wrong in our eyes. Celebrities have a solid influence over their fans. Every statement and every word spoken is deeply analysed and evaluated, making whatever they say pivotal to their character and social influence. We idolize them in many ways, be it their hair, body, mannerisms, or just their style. A lot of celebrities are also role models to children. In fact, many children nowadays want to grow up to become like their favourite actor.
Weight Loss is another area where inspiration sees no bounds. Pick up any fashion or lifestyle magazine, you will see an array of articles claiming to have the perfect solution to weight loss alongside a celebrity posing in a bikini. Although these articles do give you a generalised idea as to how to kickstart your weight loss but also leave the reader confused. Why you may ask? A lot of times, people want to see how the celebrity lost weight, or what exactly the celebrity ate to achieve the six-pack, and when they are subjected to these clickbait titles, they oftentimes feel frustrated and unsatisfied.
Actor's lives have a very thin line that separates their real life from their reel life. A lot of times, Actors and actresses have to prepare for a role that expects them to gain or lose a tremendous amount of weight. While it is not nutritionally correct for your body, actors have to adhere to an uncertain, fast-paced schedule. For a role in the movie Dum Laga ke Haisha, Bhumi Pednekar had to gain 30+ kilos to act as Sandhya. Similarly, Farhan Akhtar had to lose 15 kgs to represent Milkha Singh in the movie Bhaag Milkha Bhaag.
Since Celebrities are role models to a lot of people worldwide, they like to represent the best version of themselves to encourage people to do good. Example: If you see Janhvi Kapoor breaking a sweat in the gym, you would feel motivated to do the same! After all, if Janhvi Kapoor can make time for her body despite having such a hectic schedule, so can you!
You know that all celebrities are humans, just like us and not everyone has won the genetic lottery in terms of the perfect physique. In fact, most of the celebrities you see eat clean and work out rigorously every day to maintain that perfect figure. Not just celebrities, but a lot of fitness influencers also promote the benefits of nutritive eating and healthy living. The benefits of healthy eating are innumerable - Helps you live longer, ensures better organ health, supports muscle building, boosts immunity, strengthens bones, lowers the risk for detrimental illnesses and ailments, and supports the digestive system function.
Due to lack of awareness surrounding the topic of weight loss, people enroll in gyms and try heavy-intensity workouts in hopes of losing weight. Although it might help to an extent, without the right diet and a positive outlook, one would find it very difficult to lose weight in a healthy and sustainable manner. Prioritizing nutrition and eating healthy does not mean cutting down on delicious food, it just means correcting your order of eating and limiting empty calories and unhealthy foods. There are so many recipe cookbooks out there by chefs and home cooks that give out mouth-watering recipes for healthy food. If you don't want to invest in a cookbook, you can just go to Youtube.com and search for healthy recipes in the cuisine of your choice.
There are a lot of stigmas attached to diet and health. Since we look up to celebrities for inspiration, we at niwi.ai have curated a list of secret weight loss diets that your favorite Bollywood celebrities swear by so you can choose what the best diet for weight loss is for you!
1)
Sonakshi Sinha - High protein diet
The beautiful Dabang beauty weighed 90 kilograms before she made her first debut alongside Salman Khan. According to her weight assessments and body evaluation, she had to lose 30 kilograms to get back in the "healthy" range.
Losing weight is never easy, and was rather difficult for Sonakshi but with a high protein diet and high-intensity workouts, she was able to shed the extra 30 kilograms. She had cut down on sugar and all types of junk foods in her weight loss journey.
2)
Sonam Kapoor - Low carb, High protein
Sonam Kapoor, the stylish, free-spirited diva that we all love and adore today was also battling obesity like Sonakshi Sinha. Before rocking those designer outfits and expensive bags, she was a plump kid with a distinct style. However, with zeal, dedication, and the right guidance, she managed to lose over 30 kilograms.
Sonam Kapoor has been very focused on her diet. Despite her undying love for hot gulab jamuns garnished with pistachios and rose petals, she followed a low carb, high protein diet to achieve her ideal body.
3)
Bharti Singh - Intermittent fasting
Bharti Singh, or as a lot of you may know her as Lalli, lost a whopping 15 kgs within a year through intermittent fasting. Intermittent fasting is any of various meal timing schedules that cycle between voluntary fasting and non-fasting over a given period. Methods of intermittent fasting include alternate-day fasting, periodic fasting, and daily time-restricted feeding. Bharti followed daily time-restricted fasting.
Bharti in a lot of her paparazzi interviews elucidated that she ate only for a 7-hour window. She took her first meal at 12 PM and her last at 7 PM. She stuck to a routine and did not consume anything after 7 PM or before 12 PM. She did not kill her cravings or restrict her food intake, in fact, she often shared Instagram stories of her having desi ghee parathas and lassi for breakfast every once in 3-4 days.
4)
Shehnaaz Gill - Portion control
Big Boss fame and Punjab's very own Katrina Kaif, Shehnaaz Gill is always a treat to watch. Her adorable mannerisms and spot-on jokes have gained her a huge fan base. During her time in Big Boss, or the entire #sidnaaz phase as you may call it, Shehnaaz proudly showed off her love for food which transpired into a lot of funny memes online. She was very firm in saying that if she likes a certain type of food, she cannot restrict herself all the time and we completely agree, you should not restrict yourself from food. Food is meant to be enjoyed! We like a queen who does not want to settle for less.
After her rise to fame, she made it a resolution to lose weight by tweaking her lifestyle a little. She stayed active at home, did not enroll in some kind of gym or physical activity, and just portioned her meals. This worked wonders for her and she is indeed very happy with the way she looks and feels now.
5)
Sara Ali Khan - Balanced diet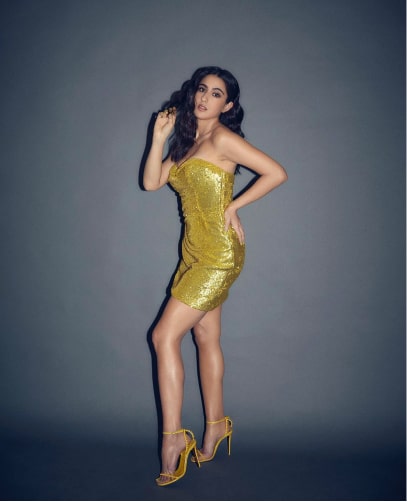 Sara Ali Khan's weight loss transformation is truly startling. When she was studying at Columbia University in New York, she indulged in a lot of fast foods, especially cheesy pizzas, as her father Saif Ali Khan has comically mentioned in a lot of interviews. Her weight at her heaviest was 96 kilograms and she managed to lose 40 kilograms in a year and a half. She was also diagnosed with PCOS and has successfully reversed it through weight loss.
She revealed in many interviews that her secret sauce for weight loss is a portion controlled Indian diet. Her preferred breakfast is toast and egg whites, whereas for lunch she loves a portioned balanced meal of roti, daal, sabzi, and salad. Her dinners are usually very light.
6)
Kareena Kapoor Khan - Nutritious vegetarian diet
Kareena Kapoor Khan revolutionized the concept of weight loss back in 2008 when she did a film called "Tashan". When the song "Chhaliya Chhaliya" made its debut, it created a buzz nationwide with people wanting to achieve the exact figure as Kareena. Kareena's nutritionist, Rujuta Diwekar, who helped her shed the weight also came out with a book by the name "Don't lose your mind, lose your weight".
"The size zero phase was a result of a combination of yoga and Rujuta's meal plan. I was 68 kilos, and she brought me to down 48, which is when I gave that bikini shot for Tashan", Kareena Kapoor Khan said. She opted for a nutritious vegetarian diet, consisting of soups, fruits, yogurt, vegetable salads, and plenty of fluids.
7)
Parineeti Chopra - Detox programs
Parineeti Chopra has always mentioned in interviews that she was very self-conscious as a child and could have never thought that she could become an actress. She felt like her weight was weighing her down and suppressing her talent.
When she was cast alongside Ranveer Singh for her first Yash Raj movie, she had lost a ton of extra weight. How you may ask? Well, she claims it was a combination of martial arts and a detox program in Austria. To this day, she looks as stunning as ever!
8)
Tanmay Bhatt - Keto diet
Tanmay Bhatt's humor never failed to amaze us. From being made fun of, about his weight to losing almost 20 stones through his grit and determination, Tanmay Bhatt inspired many people to be inclined towards bettering their health.
He was able to lose more than 109 kilograms by following the keto diet. The ketogenic or "keto" diet is a low-carbohydrate, fat-rich eating plan that has been used for centuries to treat specific medical conditions. It indeed worked for him and he proudly boasts about how much better he feels after shedding off all of those unwanted kilograms.
9)
RJ Malishka - Paleo diet
RJ Malishka is the kind of person who lights up the entire room the moment she walks in. Her aura is full of positive energy and even if you don't know her, we can vouch for the fact that you would have definitely heard her voice once in your life, either on tv, radio or just while scrolling through reels.
She has recently lost a lot of weight through the Paleo diet. She mentions including lots of greens, tuna fish, bananas, dates, aloe vera, and eggs in her diet.
10)
Katrina Kaif - Macrobiotic diet
Katrina Kaif is the epitome of fitness. While she promotes healthy eating and high-intensity workouts, little is known about her secret diet regimen. In one of her rare interviews, she confessed to following the Macrobiotic diet.
If you don't know what a Macrobiotic diet is, It is a high-fiber, high-complex carbohydrate, a low-fat eating plan that focuses on whole grains and vegetables. The diet encourages eating foods that are unprocessed, organic, and locally grown. She also loves healthy snacks and does indulge in a little munching once in a while.
11)
Akshay Kumar - Antioxidant diet
Akshay Kumar promotes a toxin-free, healthy lifestyle and completely avoids smoking, drinking, or overindulging in fast food. He is very strict on his workout regime and since he actively performs action stunts, his stamina is of prime importance to him. He has stated his views in multiple interviews on the relationship between a healthy diet and stamina.
Eating a diet rich in antioxidants that contain Brussel sprouts, plant based proteins, green leafy vegetables, etc can help increase your blood antioxidant levels to decrease oxidative stress in your body. It also helps lower the odds of diseases like Cancer, heart problems, Alzheimer's, etc.
12)
Huma Qureshi - Keto diet
Like Tanmay Bhatt, Huma Qureshi is also a follower of the Keto diet. Her low-carbohydrate, fat-rich diet plan helps her stay in shape. In fact, she also shares a lot of mouth-watering and delicious recipes along with motivational quotes for eating healthy on her social media handles.
The aim of a keto diet is to use fat as energy instead of carbohydrates. The keto plan keeps your body in the metabolic state of ketosis. This helps in weight loss and maintains blood sugar levels.
13)
Hrithik Roshan - High protein non-vegetarian diet
With Hrithik Roshan's head-turning biceps and immaculate looks, he has set a fitness benchmark in the industry for aspiring actors.
Although his washboard abs are a delight to watch, it has taken him years of hard work to achieve the physique he has right now.
Hrithik Roshan does cross-fit training coupled with a high protein non-vegetarian diet. A diet like Hrithik's helps him retain his energy and provides the right amount of vitamins and minerals. Protein diets constitute essential and non-essential amino acids that are great energy sources. They also supplement numerous metabolic functions in the body and are considered the building blocks of all living cells.
A cheeseburger on the lips, forever on the hips?
Although it is completely normal to have a cheat meal once in a while, it is imperative to have a healthy diet to lose weight and have bodies like the celebrities you admire.
All bodies are different in terms of nutritional requirements, ailments, allergies, calorie intake, etc. To compare your body with Akshay Kumar or Katrina Kaif would not be the right thing to do. You can aim for a similar kind of body and set some clear fitness goals with the help of a registered dietitian.
If you are interested in any of the above diets that your favourite celebrities follow, check out our programs for a customized diet plan in accordance with your body type, dietary needs, and even your taste buds. Yes, we do not force you to eat tasteless and bland food, rather we recommend meals that are accustomed to your taste buds.
Ready for a health revolution? Join us on our mission to transform the nutrition landscape!
For any queries, Write to us at info@niwi.ai or call us at +91-8800874676.
At niwi.ai, we have helped thousands of clients transform their lives and feel stronger, more energetic, and definitely more confident in how they look and feel, by improving their relationship with food!