What can you expect from this blog
With longer days and warmer temperatures, it is safe to say that we are welcoming summers with open arms. Regardless of whether or not you like summers, you would agree that there's no better way to embrace the heat wrath of summers than sipping on chilled refreshing drinks and lounging around.
This is why our certified nutritionists and best dietitians from Delhi NCR have curated a recipe blog for you to beat the heat and enjoy summers in full glory. We have included all types of drinks so you can pick and choose which one works best with your taste palette and make it at home.
Tag us at @niwi.ai on Instagram and LinkedIn with your recreations and we will make sure to repost them on our page. :)
Introduction
Summers are different for everyone in our nation– If you live in Delhi NCR, you would know how torturous it can get with the soaring temperatures, however, if you live in Bengaluru, you would probably not bat an eye over summer beginning or end. Irrespective of that, summer is the season of happiness, travel, and most of all – cool clothes! A lot of our clients get associated with us to achieve that 'summer body'. If you are a beach bum, or like hanging out in the sun-filled, warm breezy days, you would know the importance of being hydrated at all times. Whether it's a family cookout day or a picnic date with the love of your life, these recipes can pair up with your lunch, dinner, snacks, and even breakfast!
All of the recipes mentioned here are all non-alcoholic so can be served to and in front of children and senior citizens. However, if you would like us to do a blog on low calorie alcoholic summer drink recipes, make sure to shoot us an email at info@niwi.ai and we will surely give you mouthwatering recipes for it.
1) Watermelon Lemonade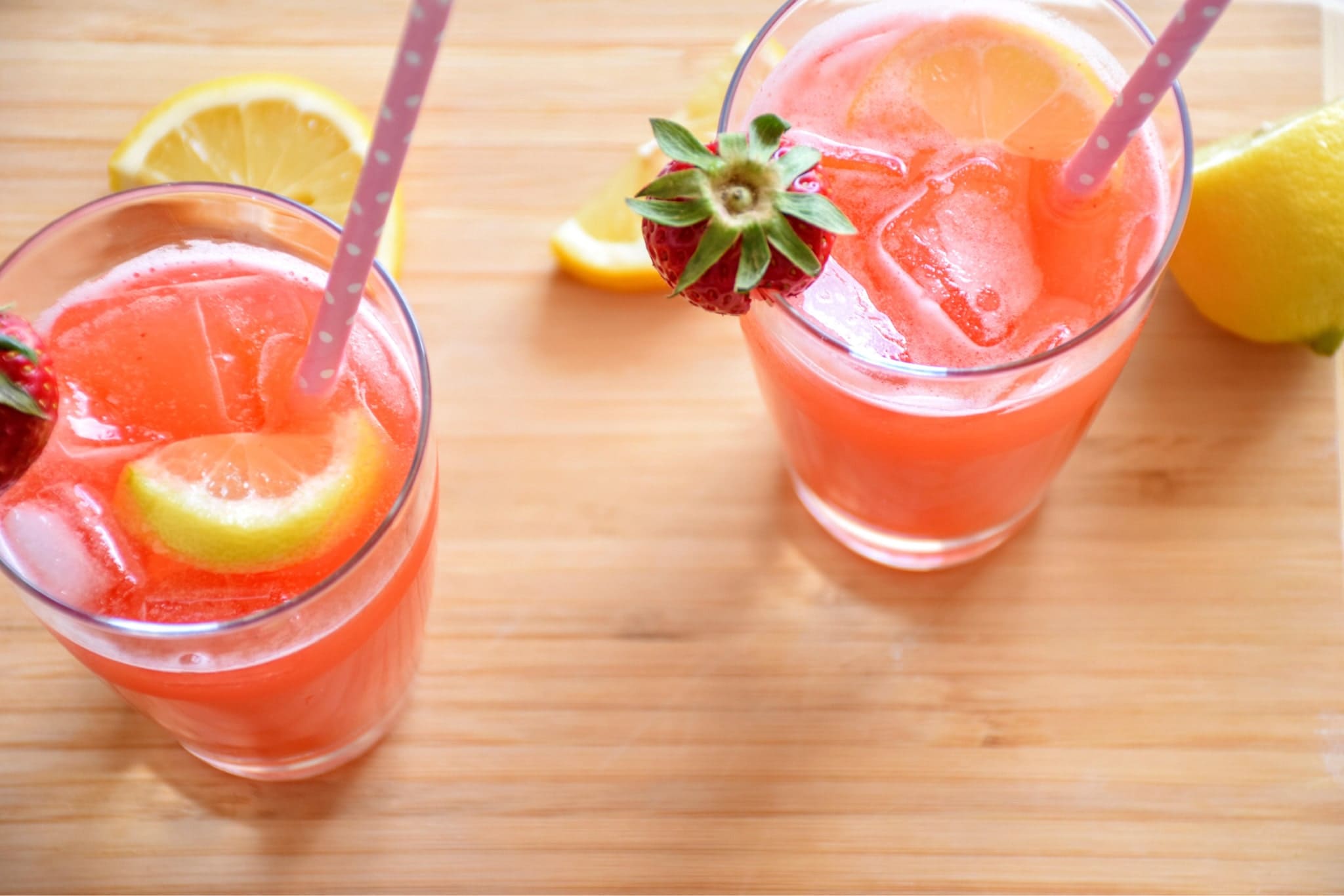 You can't go wrong with a classic watermelon lemonade. Watermelon is predominantly 90% water and is an awesome way to stay hydrated. It also contains heaps of electrolytes like potassium which can help you replenish lost fluids through sweating. This is a great recipe that we recommend to our clients when they want to have a quick sweet snack.
Ingredients: 6, Prep Time: 10 Minutes, Calories: 50 per serving, Serving size: 10
What ingredients do you need for this recipe?
½ cup gur (jaggery)

½ cup water

4 cups cubed watermelon

3 cups cold water

½ cup fresh lime juice

4 cups ice cubes
How to prepare:
Step 1: Cut your watermelon into small cubes and put those cubes in a blender. Once in the blender, give it a whirl and blend till it has a puree like consistency. Make sure that all the chunky pieces are blended.
Step 2: Once the watermelon is blended nicely, strain it with the help of a fine mesh sieve to ensure that all the seeds and chunky particles are left out.
Step 3: Take a saucepan and put it on the stove. Take ½ cup water and ½ cup gur (jaggery) to a boil on medium flame. After 5 minutes, you will notice that the sugar will start dissolving due to the heat in the pan. This is when you would remove the pan from heat.
Step 4: Keep the pan aside to cool and add 3 cups of cold water and ½ cup fresh lime juice in a separate container.
Step 5: Take a glass dispenser that is big enough to carry 10 whole glasses of lemonade and transfer the liquid constituents into the dish. Once cooled down, transfer the pureed paste into the same container and mix well. Once mixed, add 4 cups of ice cubes to make it chilled and refreshing!
Step 6: Whenever you wish to serve, give it a nice stir and pour a glass.
2) Masala Chaas (Masala Buttermilk)
Masala chaas is a cult favourite drink in India. Every part of India has a different name for chaas but all in all, it is an extremely delicious spiced drink that also quenches our thirst by keeping us hydrated. Check out this quick and easy recipe for the tastiest masala chaas you have had in your life.
Ingredients: 9, Prep Time: 10 Minutes, Calories: 85 per serving, Serving size: 2
What ingredients do you need for this recipe?
How to prepare:
Step 1: Take 1 cup of plain yogurt, we generally recommend taking cold yogurt so keep it in your fridge 2 hours prior to making your masala chaas.
Step 2: Lay your ingredients – 1 cup plain yogurt, 2 cups cold water, chop up 1 green chilli, grind ½ inch of ginger, and chop some cilantro ( approximately 1 tablespoon).
Step 3: Once done with the above ingredients, lay out all of the masalas that you need to put in to make the masala chaas. Take ½ teaspoon of cumin powder, ½ teaspoon of black salt, 1/4th teaspoon salt, and 1/4th teaspoon of chaat masala.
Step 4: Once all the ingredients are laid out, transfer them into a blender and blend well. We recommend blending 2-3 times aggressively to ensure that all the raw ingredients have mixed well. Once done, pour into your serving glass and drink up. You can also store it in your fridge for 1-2 days but please note that the earlier you drink it, the better it is as dairy items are mostly perishable, and in summer, perishable items tend to go bad earlier than you would anticipate.
3) Jaljeera
Jaljeera brings back fond memories from our childhood. I still remember when guests came over unannounced, my mother would quickly whip out ingredients from her kitchen and make lip smacking jaljeera for everyone. This simplistic beverage is not just yummy but also has heaps of health benefits. It is simple to make, easy to drink, and can really be your best friend in this scorching summery heat.
Ingredients: 10, Prep Time: 5 Minutes, Calories: 69 per serving, Serving size: 2
What ingredients do you need for this recipe?
How to prepare:
Step 1: To make jaljeera just like our mothers did, you need to dry roast cumin seeds till they turn brownish black. Allow them to cool and crush them into a fine powder like consistency and keep it separately. You can also use cumin powder but honestly, we feel that if you cook the seeds and crush them yourself, it gives it a richer flavour and enhanced taste.
Step 2: In your blender, take a handful of mint leaves as well as a handful of coriander leaves and blend them together. Blend it till it makes a puree like consistency. You can keep on adding water to achieve the texture.
Step 3: Now take a glass dispenser or a jug, whatever is convenient to you, and add 4 big ice cubes. Once it is settled in, grate ½ inch of ginger inside the dispenser or jug.
Step 4: Add your coriander and mint leaves paste to the jug/ glass dispenser.
Step 5: Mix in your roasted and crushed cumin powder (2 teaspoons), add ½ teaspoon amchur powder, followed by ½ teaspoon salt.
Step 6: Add 2 glasses of water and put some lemon juice in the mixture.
Step 7: Add ½ teaspoon of crushed pepper powder and give it a good mix.
Step 8: Transfer it to your glass and top it up with a few more ice cubes to keep it chilled.
4) Aam Panna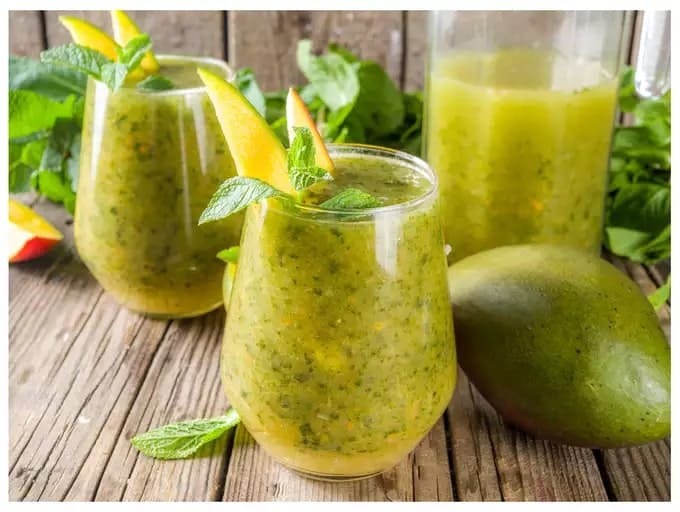 Mangoes are a delicacy in the summertime. It is a fruit that is loved by a huge chunk of Indians and summer is oftentimes equated with relishing mango shakes, aam panna, or just some fresh mango desserts. This yummy beverage is traditionally consumed in India and other parts of South Asia where temperatures can soar during the summer. The terminology is different for each country but the constituents more or less stay the same. Raw mangoes are a good source of electrolytes and are known for their cooling properties that in turn make it an ideal ingredient for a summer drink. Aam Panna is served chilled which helps provide some sort of relief from the heat and helps to keep the body hydrated.
Ingredients: 8, Prep Time: 35 Minutes, Calories: 180 per serving, Serving size: 2
What ingredients do you need for this recipe?
Handful mint leaves

2 Green raw mangoes

3 tablespoons brown sugar

1 tablespoon cumin powder

2 tablespoons black salt

1 tablespoon salt

2 cups of cold water

4 big ice cubes
How to prepare:
Step 1: Immerse the 2 green raw mangoes in water inside a saucepan and boil them at a low flame. The whole point of this step is to make the mangoes soft from the inside.
Step 2: Remove the mangoes from the saucepan after 10 minutes and put them aside in a dish to cool. Once cool, peel them off with your hands or a normal spoon.
Step 3: Put the pulp in a blender and add some water to blend it into a thick paste. Keep on adding water to ensure that the thick consistency we want is achieved without any chunks and unevenness.
Step 4: Now, transfer the paste from the blender to the pan and mix it well. Once mixed, add 3 tablespoons of brown sugar. Let it cook on medium flame till the sugar has dissolved. Make sure to stir continuously so it does not burn.
Step 5: Now, add 1 tablespoon of cumin powder, 2 tablespoons of black salt, and 1 tablespoon of salt to the mixture and stir.
Step 6: Once done, transfer the constituents to a glass dispenser or jug and add chilled water. Make sure to keep mixing for the best results.
Step 7: Lastly, garnish with some mint leaves and serve chilled.
5) Fruit and Yogurt Smoothie
If you're in the mood to fill up your tummy with a beverage, this is the one to choose! We understand that although beverages like Aam panna, masala chaas, watermelon lemonade, and jaljeera taste really good and feel refreshing to have in all the summer months, they don't really satiate your hunger. Fruit and yogurt smoothie is one of the easiest smoothies to make which is ideal for busy summer days when you just want to get going and escape the scorching heat. This smoothie can keep you hydrated while ensuring that the fruits provide you with optimum amounts of vitamins and minerals that are necessary for your body. While you can mix and match different fruits to suit your taste preference and availability, we recommend using these fruits for an ideal beverage.
Ingredients: 3, Prep Time: 10 Minutes, Calories: 280 per serving, Serving size: 1
What ingredients do you need for this recipe?
4 cups plain yogurt

½ cup real fruit juice

1 ½ cups frozen fruits – apple, blueberry, peach, strawberry
How to prepare:
Step 1: Freeze your fruits. Our online dietitians recommend taking apples, blueberries, peaches, and strawberries. Ensure that all of these fruits are not more than 1 and a half cups combined. If your fruits are nicely frozen, you will really enjoy the smoothie so we recommend freezing the fruits overnight.
Step 2: Once frozen, chop up those fruits into small pieces and put them in the blender. Mix it well till it becomes a thick paste.
Step 3: With the motor still running, slowly pour half a cup of the real fruit juice and continue to mix.
Step 4: Lastly, add 4 cups of plain yogurt to the blender. Make sure it is cold so you can relish your smoothie. Mix well.
Step 5: Pour the smoothie into your glass and consume it cold. Do not store it in the fridge, consume it immediately.
Time for some tan lines and good times…
Figuring out a way to survive in the hot and humid weather is tough, but what's tougher is not knowing what works for your health and dietetics. A lot of times people don't really understand how they can fix their diets and get their ideal 'summer body'. Don't fret, if you are someone who is looking for professional guidance to start their nutritional journey, our registered dietitians in Delhi NCR curate meal plans that include food options that resonate with your body's needs, in accordance with the season. Just because it's summer does not mean you need to eat certain fatty foods to thrive. Not at all! In fact, our best nutritionists in Delhi give you a variety of options to choose from.
If you're looking for a customised meal plan that can help you get closer to your fitness goals, our nutritionists in Delhi NCR have got you covered. We build diet plans considering your body type, genetics, activity levels, busy schedules, and taste palette. We recommend foods that can complement your body in the summer, winter, autumn, and spring! We do it all. So if you're concerned that you haven't worked towards your summer body yet and it's already summer, you have come to the right place.
Ready for a health and nutrition revolution? Join our wellness program and educate yourself on the benefits of nutrition for your body.
At niwi.ai, our best dietitians in Delhi NCR ensure that you reach your health goals without worrying about things like 'how will I diet during summer? It's so hot' or 'It's summer already, maybe I can start next winter'. We help you conquer your goals and be there with you every step of the way. Don't believe us? Try us out!